British National Para-cycling championships
This weekend I had the honour of piloting a tandem for para-cycling athlete Chris McDonald. We've ridden together previously, but not for about 2 years. So with only a few weeks to practise, we went to one of the PDQ cycling sessions at Odd Down Cycle Circuit as that's where the road race would be held. We also competed in a DB Max 10 mile time trial at Castle Combe, managing a PB of 20:49. So we were quietly confident going into the Para-Cycling Nationals weekend on the 5th/6th of June.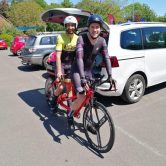 Chris McDonald

– PDQ Cycle coaching
Neil poulton (pilot)

– Summit cycle coaching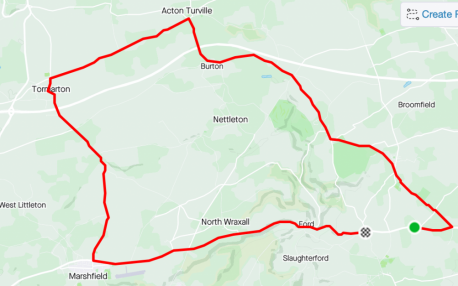 Time trial – 5th june
The TT was based on a course near Castle Combe and can definitely be described as sporting!! Very hard to settle into a rhythm with all the rolling hills, some very long drags and one extremely steep hill before the final very long, very fast finishing segment.
Preparations and warm-ups went well and we went to the start-line feeling great. We paced it well through the rolling early sections and negotiated the highly technical section through the villages, we were flying! But then our luck ran out! In the narrow twisting lanes, there was a steep down into steep uphill, we were doing 39mph only to be brought to a screeching halt by tractor and a car blocking the road…disaster, though at least we avoided a crash!!
We were stationary for about a minute at the base of the steepest hill. I had to dismount the bike and get Chris to lift the back wheel while I got us out of the 53-12 and into a gear we could get up the hill in from a standing start!! Not ideal 🙁
Obviously, the time spent stationary and the loss of speed going into the hill meant it was over for the win. We kept up the best pace we could over the remaining 5-6 miles, but it was over. Really proud of our effort and we were proud to get the silver medal. Congratulations to Simon and Matt, taking the National Champions Jersey and Brad and Tim for a great ride for the Bronze.
Road Race – 6th june
Dusting ourselves off after the TT, we warmed up for the National Para-Cycling road race at Odd Down Cycle Circuit. It's a really tight and twisting circuit with some really fast sections. With a stiff breeze blowing across the circuit it was going to be hard for everyone.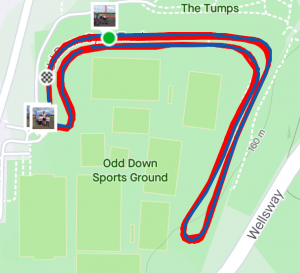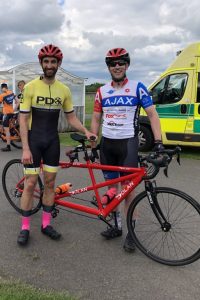 Just after the race, shaking like a leaf, but really happy to get over that line first!!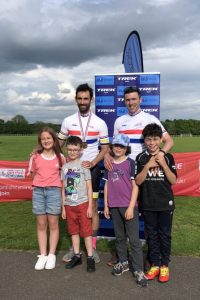 Proud to be wearing the National Champions Jersey and share the moment with Chris's Son and Niece and my two boys Andrew and Nico.
The Race
I was really concerned about the steep corner with 4 nervous tandems going into it…8 pairs of fresh legs and a tight corner didn't sound like a great idea and I didn't want another incident to stop us today. So as soon as the neutralised zone finished I put the hammer down, it wasn't really planned and so I hadn't talked to Chris about it, but in the moment it felt like the right thing to do. Chris is an awesome tandem rider and immediately felt the pedals and responded matching my effort. We went flat out for about 3 laps, didn't ask for any help and didn't really look back, just wanted the race strung out.
As things settled it was us and the TT champions Matt and Simon at the head of the race and a small gap back to 3rd. We started working with Matt and Simon, taking a lap each on the front allowing us to build a lead. I was planning to keep this going for most of the race, but Matt and Simon had other ideas. After about 20 minutes they attacked hard, putting the hammer down after every corner, forcing the pace and forcing us to respond. Luckily our bike handling and power were able to keep us with them. They continued to attack us repeatedly for the rest of the race, trying to surprise us or bolting out of the slow corners, but as the. lap board started counting down into the last 10 laps we were still there.
Between attacks, we kept a solid pace on the front as I felt a faster pace suited us and we could make them work out of the corners and hinder their recovery from their attacks.
After what turned out to be their last attack with 6 laps to go I felt we had an opportunity to counter, and we did…we hit the front hard and clipped a few pedals in the corners (on a tandem, that's really scary!!) and though we got a small gap, with about 10-11 minutes left to race, I felt it was a risk to go all in…I'd rather trust our sprint.
The four of us were back together for the final 5 laps and I wasn't planning on letting the front of the race go. We kept the pace high by kicking hard out of the corners meaning to take the lead would mean a massive effort. Our pace was enough to put off any further attacks and coming out of the last steep corner I shouted to Chris, asking for a long sprint through the last sweeping corner and all the way up the hill to the line. Thankfully it was enough… British Champions 🙂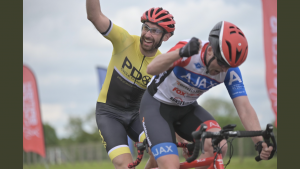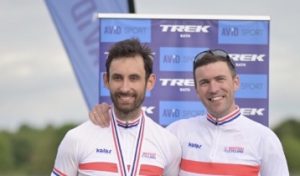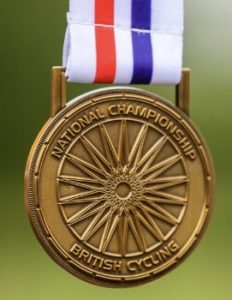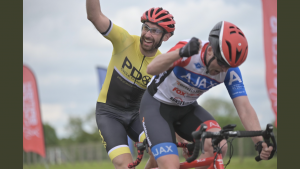 Thank You
Big thanks to all our supporters both on the day and in preparation. Thanks to Jason of PDQ cycle coaching for helping us out at the training session a few weeks back, it really helped to see the circuit in advance and getting my confidence with those tight corners.
Thank you to the other tandem teams, great racing over 2 days and great performances all around.
Biggest thank you to my wife Anna, who puts up with me and my cycling obsession!! Couldn't do it without you 🙂
Finally, a massive thank you to Chris for trusting me as his pilot, massive congratulations for the win, you were super strong. I hope we get to see you in the Olympics one day 🙂
British National Para Cycling Championships