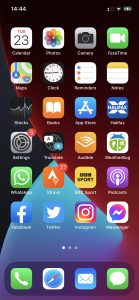 5 Favourite Podcasts
Winter is here and for a lot of us that means a bit more time on the turbo. I use the turbo most of the year anyway as it's often the only way to fit in the training. But it can be boring! I personally got bored listening to music on the turbo almost straight away…that's when I found podcasts!!
Podcasts are a great way to pass the time and I find have been of great value in learning more about the training and physiology of endurance sports.
So here are my favourite podcasts in no particular order, these are the ones I've learned the most from over the years, enjoy!
That Triathlon Show obviously isn't just about cycling, but it's still one of my favourites because of the incredible guests and insights into endurance sport. The archive is pretty massive, but easy to navigate on the website and the guests are fantastic. The host Mikael is also extremely knowledgeable and adds a lot. His questioning style and understanding add a lot to this podcast and it is highly recommended. Two of my favourite episodes (of many) are with Inigo San Millan (Ep. 262) and Arild Tveiten (ep. 304). Episodes are released every Monday and are great company on the turbo.
The Cycling Time Trial Podcast is one of the first I started to listen to. As TT is my favourite discipline I delved into the archives of this one and have listened to every episode! I'd say this podcast helped me most from a kit and aero perspective. With top aero geek guests like Xavier Disley, Dan Bigham, Matt Bottrill and Rob Barrett there's a lot that can be learned. The biggest benefit was learning to do my own aero testing…massive gains!! There's also loads of training/physiology advice too, so check it out.
The Empirical Cycling Podcast has recently restarted after a bit of a break and is probably the most science-heavy, physiology-based podcast. I don't have the depth of knowledge to get the most out of all the episodes…they go VERY DEEP into the weeds!! However, most of the episodes I can cope with and are very interesting. The host Kolie Moore isn't afraid of telling it how he sees it, but with a science-based philosophy, it's well-founded. I couldn't narrow down a favourite, they are all great, but if I had to pick I'd go for the VO2max series, which is about 6 episodes and absolutely incredible!!! (The link is for the first in the series).
Previously the Fast-Talk part of the Velo News podcast, went on its own over the last couple of years. It's been going a while so the archive is pretty big. They get some absolutely incredible guests on and cover a really wide range of topics. There's some really in-depth physiology, training and coaching advice that is really practical for all levels of cyclist. Hard to pick a favourite, but there was a series of 3 episodes by Dr Stephen Seiler (ep. 51, 54 and 75; this one links to the first of those). However, there are also great episodes with Sebastien Weber and a recent look at bike fit with 3 experts sharing their opinions. There's also great free and paid-for content on their website, which is worth checking out.
Coach Joe Beer was one of the guests on the cycling time trial podcast. As soon as I finished the episode I subscribed to Joes' podcast and started working my way through Joe's podcast archive. What the man knows about endurance sport is incredible! Balanced, practical advice without all the hype…it's just what works in simple, easy to understand language. I was so impressed I ended up asking if Joe would coach me. I'm so glad he said yes as after one winter under his guidance I was absolutely flying and in 2019 I had my best ever season!!
2 Bonus Recommendations
Not training or science-based, but these two are a great listen!!
The cycling podcast was a recommendation from my brother who'd got back into cycling a year or two before me. It's mainly based around the races and gives insight into the world of professional cycling, but there is also the added bonus of learning about local geography, food, history and so much more. It's a great way to follow cycling and build the picture behind the racing. I particularly love the daily coverage during grand tours. You get so much more depth to the race if you watch the race unfold and then hear the analysis, interviews (and food/wine reviews) in the evening. All the hosts are great to listen to and bring their own perspective on the day's events. They also have other podcasts on their feed, I'm a big fan of the cycling podcast feminine as women's cycling can be hard to follow due to lack of coverage on TV.
Last but not least…a completely non-cycling related offering, barely even sport-related!! The Socially Distant Sports Bar Podcast started because of the UK lockdown…3 mates review sporting clips, books and documentaries. However, it's not about the sport!! The tangents that they go on are hilarious. There's a shorter free version and a Patreon version, which offers a fair bit more content, all of which makes me laugh out loud and occasionally choke on my food/drink while riding!! I pay for the Patreon and it's well worth it, time disappears on the turbo!!
Hit a Plateau?
We can look into your training history, identify the reasons for your plateau and build a plan to get to the next level.
Money-Back Guarantee
We only work on the understanding that you can have your money back if you are not satisfied.