Metabolic testing
Having a Sports Science background makes me interested in all things physiology and testing. I'm sure we are all familiar with various tests, FTP tests, lactate testing, VO2max tests, etc. But it was some interviews I listened to with Sebastian Weber of InScyd that got me really interested in metabolic testing.
What previously would have required a trip to a lab, was now accessible to those with a power meter…with all the testing done at home. Though I went through their demonstrations and some of their education, I decided it was a bit expensive for me and my clients.
However, I was listening to the brilliant Endurance Innovations Podcast a while back, they were interviewing the guys behind the website AeroTune. I'd not heard of them previously, but I really liked what they were saying.
There were two episodes, the first one I heard was about their aero-testing platform…and actually, that was what made me download the podcast. However, during that interview, they started talking about their metabolic testing platform and that was much closer to the price range I was looking for.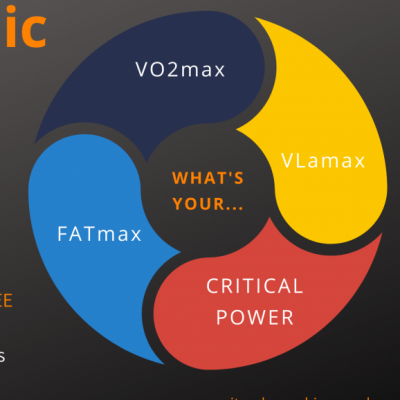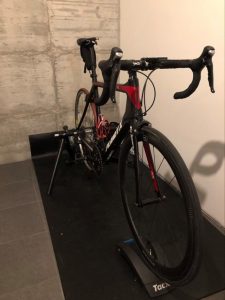 Easy to do a home or on the road, following their very clear instructions.
Find out your:
VO2max
VLamax
Fatmax
Critical Power
Why metabolic testing?
The reasons for getting metabolic testing are actually something I hadn't considered a huge amount before, mainly because of expense and the fact you'd have to travel to a lab to get it done. This new type of modelling allows you to test at home with the power meter on your bike. This makes it both far more convenient and far more affordable.
These two factors combined have the added benefit that you will not only be able to get tested, but you will also be able to re-test at appropriate times to check on progress and correct course if necessary.
Metabolic testing goes beyond simply finding out a simple measure like FTP…WAY BEYOND!
With accurate metabolic testing, you find out the 'how' behind the threshold measure. What metabolic pathways are you using to achieve your FTP.
As a time trialist, I was particularly interested in my VLamax. I was keen to see if I could take advantage of lowering this in the pursuit of a higher sustained power. Without this knowledge, training is less targeted, exciting times!
---
I was also interested to find out where my 'FATmax zone' was too. Definitely keen to take advantage of knowing that and seeing if I can improve it.
That's key with the test and re-test…you can find out if what you doing is having the expected results!

interpreting the results
Aerotune also gives you some great feedback in your results form that has some information about your results and some suggestions on how you might direct your training.
Beyond that, the information is just such a great starting point and can give your training some real focus.
As with any training, it starts with your goals. What do you want to achieve? The goals you set are the 'end point' if you like (or more likely a waypoint), but what's key here is that with metabolic testing you have a starting point. A much more accurate starting point.
I think metabolic testing is the missing piece of the puzzle. You can certainly make very educated guesses at your starting point and there are other ways of establishing your starting point and therefore the focus of training. However, I believe this is a more accurate way of finding the starting point.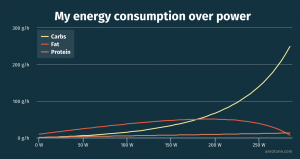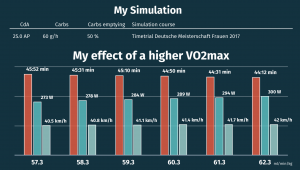 Models of possible changes
Your test on the day is the starting point, the programme models the potential benefits of changes to your VO2max (above) and VLamax (below). This allows you start planning your training too make the changes you want. No more guess work!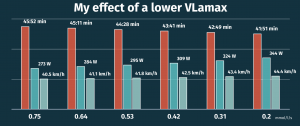 Obviously, you still have to put in the hard work!! But there is a comfort and confidence that this testing brings to your training that is very motivating. Also, because this is a very convenient and affordable platform you can re-test and check your progress.
The day to day planning and the month to month progression of your workouts is still of vital importance. You can't get away from that, but with a look into your metabolic profile, you can make all the hard work pay off to the maximum.
Any questions
If you have any questions or comments you can ask them in the comments section below or email:
Free aero Testing article
What do you Know about Metabolic Testing?